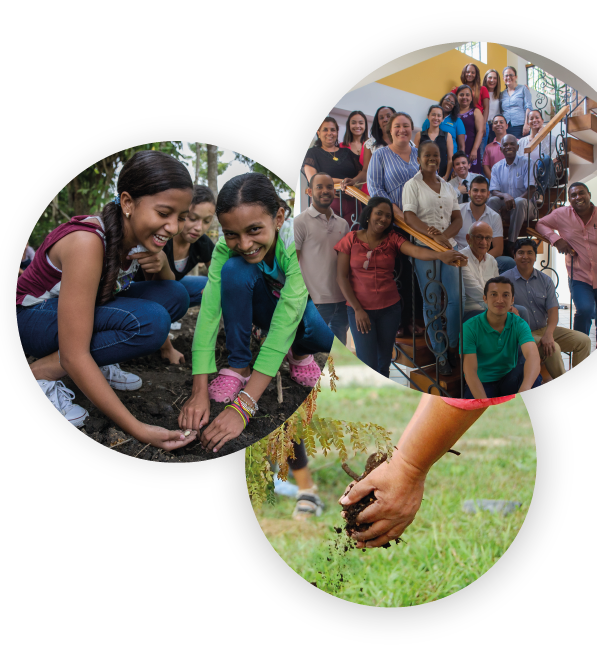 Foundation for the Application
and Teaching of Science (FUNDAEC)
The Foundation for the Application and Teaching of Science (FUNDAEC) is a non-governmental organization, founded in Cali, Colombia, in 1974. For more than 40 years it has been building capacity in various regions so that its population may carry out action and research related to the various processes that make up its social, economic, and cultural life. For every such process, FUNDAEC has endeavored, together with members of local communities, to establish a parallel process of learning, with the aim of transforming daily practices so as to improve the well-being of the entire population.
The processes that have received the most attention over the years and about which a considerable amount of knowledge has been generated, involve education. Similarly, much has been learned in other fields such as agriculture, community organization, and the local economy. The knowledge generated in these fields has been systematized, giving rise to the preparation of a series of education for development programs.
Alternative secondary education that fosters sustainable social and economic development projects led by young people eager to serve their communities.
A complementary education program that helps young people develop the necessary skills to become promoters of community well-being.
The program helps young people achieve excellence in a trade or profession so that they can contribute to the betterment of society and develop the capabilities they need to exercise leadership in their communities.
The program aims to recover a native dry tropical forest in Norte del Cauca to encourage appreciation, respect and care for the environment, and recover native species of the region.
The program seeks to learn with local leaders and organizations about the development of leadership capabilities and the design and execution of projects, to help them solve problems faced by city neighborhoods.
The goal is to increase reading comprehension levels of rural primary school students and promote gender equality between girls and boys.